Virtual & Hybrid Event Solutions
Simplify hybrid & virtual event experiences with an all-in-one event management platform.
1. Host digital events with a full-featured virtual event platform 
2. Digitalize interactions & processes for in-person audiences
1. Virtual event solution
Get to know our virtual event platform
Reach the full potential of online engagement with cost-effective experiences that impact a wider range of audiences.
Learn more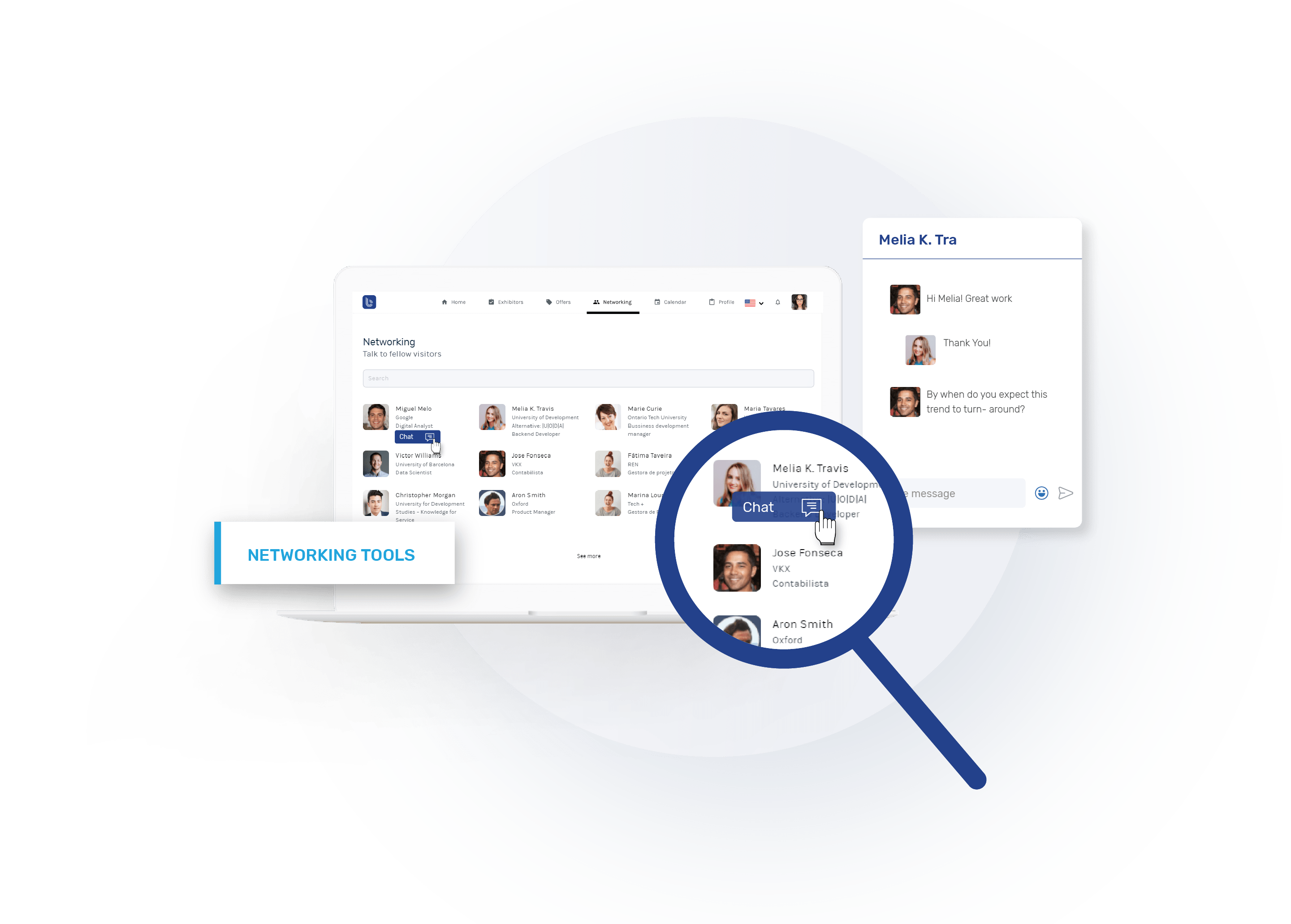 2. Interactive solutions for hybrid & live events
The beamian platform delivers full flexible solutions for remote and in-person audiences at your virtual, hybrid or live events.
Our customers speak for us
The platform is amazing in that it offers several options for exhibitors to manage their virtual stands. It's possible to schedule public or private meetings with customers, or simply to chat with them. The data gathered from the platform was also very appealing to both organizers and exhibitors. The event was a success, in part due to the dedicated support that was given by beamian throughout the process.

Beatriz Serrano

Operations Manager, Study Abroad Portugal
Ever wondered to know the behavior of delegates or visitors of your event? What captured their attention? Which circuit have they done? What were the most visited stands? The answers to these questions provide valuable information for event organizers (...) and this is what beamian allows. (in Event Point)

Claúdia de Sousa

Director, Event Point
Amazing and useful application of NFC technology to an event environment! You simply have to tap the -M-box with a simple badge and all the information is delivered directly to your phone. (at Mobile World congress)

Richard Clemmer

CEO, NXP Semiconductors
In November 2020, we hosted our first-ever virtual internship fair for our engineering students. Thanks to the expertise and flexibility of beamian, it was a great success!

Jarne De Waele

Career & Development Manager, VTK Gent