Manage my event
Digital events solution
Tailor the event platform to your brand
Leave your remote audience blown away. Create a fully branded event page, promote it, sell tickets and reach out to everyone who might be interested in your event schedule. Set up your entire registration flow with us, or seamlessly integrate your registration forms.
Engage your remote attendees
Virtual platform features
Encourage virtual engagement with highly interactive networking tools.
Benefit from authenticated event access
Allow attendees to connect via video conferencing or live chat
Extend your reach through live streaming or video embedding
Monitor interaction data, such as shared contacts or product preferences
Drive more traffic to exhibitors
Give your exhibitors a double chance to hit the ground running through virtual booths. Boost revenue for exhibiting companies with high-traffic, customizable booths within your event platform. All product interaction data is exportable, ready-to-use and allows for easy integration with CRM softwares.
An online event platform with endless potential
Offer always-on engagement to your attendees, connecting them to exhibitors, other attendees and virtual booths. Allow them to easily manage their schedules and keep up to date.
HD live streaming solution
Broadcast your event to unlimited viewers like a pro. Set up a public or private live streaming, or choose to embed external video streams.
Job board for career fairs
Looking for an event platform that speaks the language of your job fairs?
Learn more
Keep track of everything in the back-office
Add as many event managers as you like
Don't take everything on your back, get the opportunity to delegate attendee management tasks to your event team.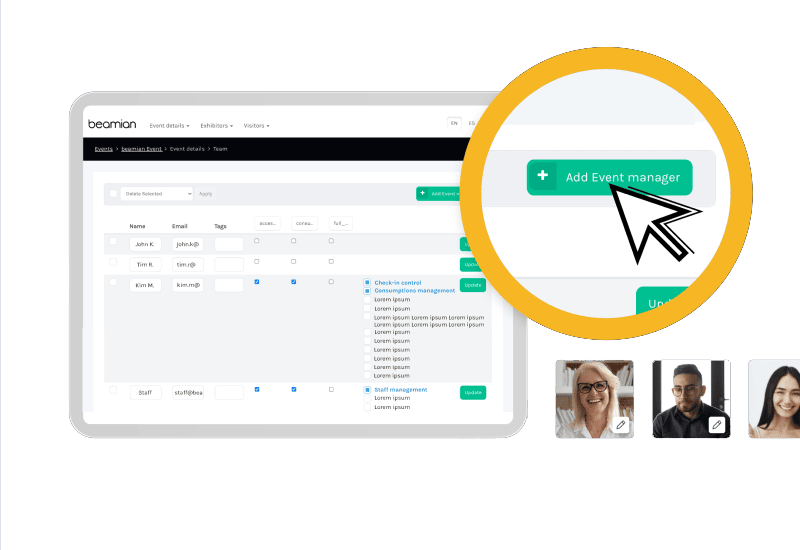 Manage consumption limits and access control
You decide who has access to each event session
You define how many consumables you want to give by ticket type
You can change your mind and adjust the limits whenever you want
You follow what's happening through a live dashboard