Of the many times we talk about virtual & hybrid events and make some tech-based forecasts about the future of events, we always end up going deeper into a trend that won't stop trending in a near future – hybridization.
What are Hybrid Events
Hybridization adds event technology tools into the traditional event flow to create new types of attendee experiences and new ways to increase event engagement. For an event to be hybrid, it must include a live gathering with at least one group of attendees that find each other face-to-face while also connecting with remote participants.
If you're wondering how to organize hybrid events, you must ensure that you'll offer both unique and multiple experiences for different types of audiences, that will be in different parts of the globe. And this makes your primary concern to have a much wider range of options to engage your attendees, which should combine the best lead capture tools to digitize live interactions with virtual event features.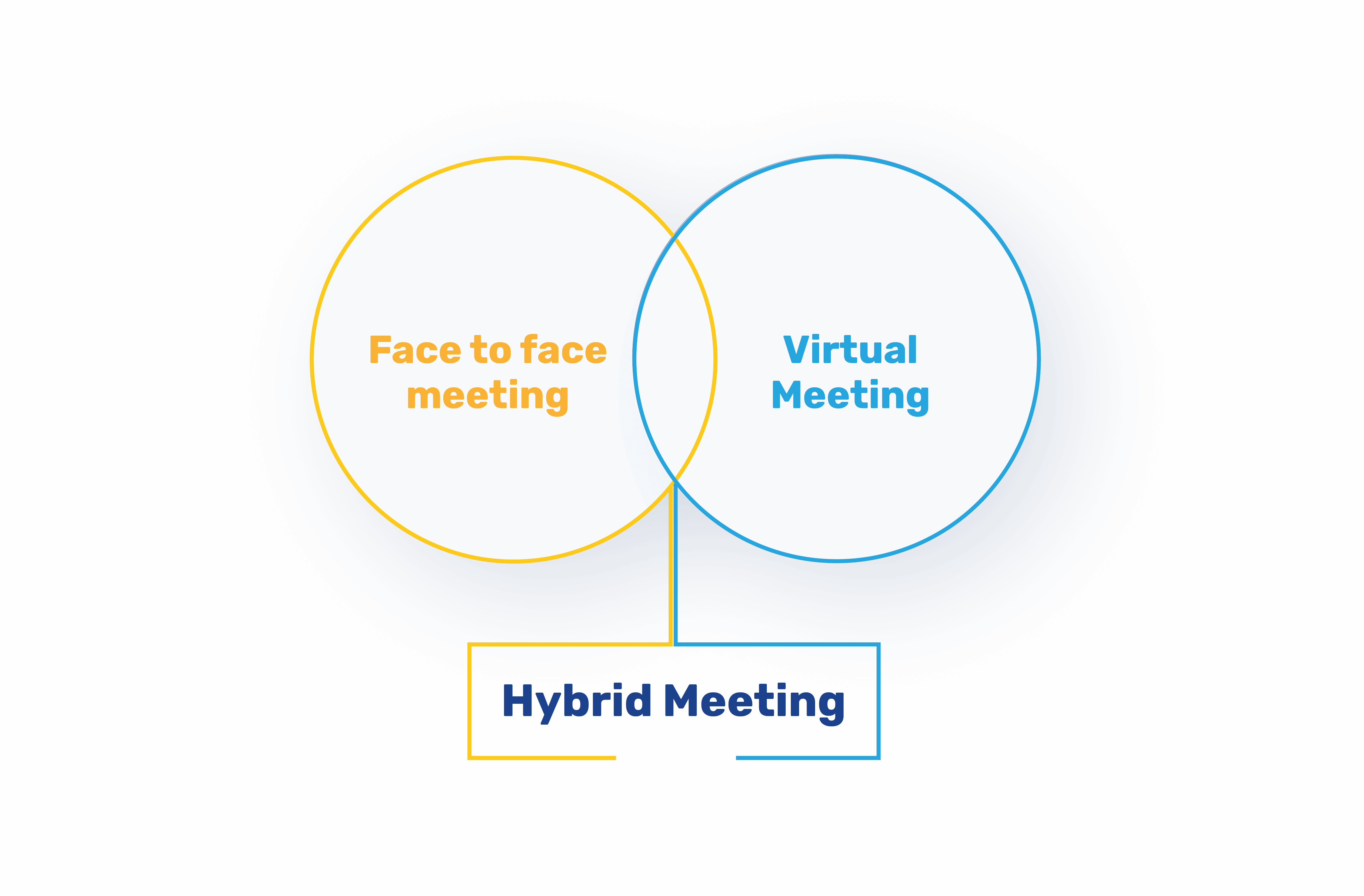 Main Benefits of Hybrid Events
Events generate ROI when participants take an action (buy a product/service, become more efficient, engage with a brand or learn a skill or procedure) as a result of having attended. In this respect, hybrid events are no different from live events. In fact, they offer more opportunities for adding value and increasing your event success by:
Reaching a larger, global audience (face-to-face plus virtual);

Reaching people who couldn't otherwise attend (due to travel restrictions or differing time zones);

Enabling safe online audience participation (concerns with social distancing measures and capacity control become less);

Eliminating travel costs for virtual attendees;

Providing new and engaging ways to deliver content;

Connecting multiple events that occur simultaneously, regardless of time and space;

Expanding the reach of your message by offering personalized content at just the right time.
Planning a Perfect Hybrid Event 
In a nutshell, organizing successful hybrid events in 2022 requires organizers to define a hybrid strategy that doesn't dismiss issues like venues' capacity, registrations, check-ins and different time zones. Basically, they need to ensure that all event processes run smoothly and safely, both for virtual and live settings.
Let's look at 5 keystones for your strategic roadmap:
In order to create an engaging event experience, you need to establish clearly defined objectives. For example, your goals can range from generating direct revenue to simply improve customer satisfaction. 
Consider external factors
Social, technological, political factors and trends of digital transformation in events may affect your event. For example, safety and public health measures may influence decisions about where and how to hold your event, or even whether or not to go forward with a hybrid event at all.
Within the most relevant solutions for virtual & hybrid events, there are some requirements to which you must pay attention and allocate a good amount of your budget. A few examples are video production, streaming services, content development, good internet connection and also a virtual event platform.
Define a way to measure the success of your event
Hybrid events, just like live events that benefit from event tech tools, offer a double opportunity for event organizers to collect reports & analytics. If the key question is "How will you measure your key performance indicators?", it should be strictly related to your event goals. For example, if your objective is to increase revenue, you should look at future sales generated. 
Our tip: Make a comparison between your hybrid event and other historical data from previous events. Then draw your own conclusions about the type of event that best suits your business.
Also read: Measuring success in virtual events
Get to know your audience
In hybrid events, you'll have different types of audiences that have a high propensity to consume your content in various ways and timings. So, you must assure that although these heterogeneous groups will experience your event in different ways, the outcome will be successful anyway. 
The good news is that with audiences in different places, time creates more than challenges. It creates opportunities.
Choose the Best Hybrid Event Management Platform
While Covid-19 cases are still skyrocketing and vaccine plans remain behind schedule, the events industry will continue to face uncertainty. And what's the best way to curb uncertainty? Flexibility. That's why it's so important to choose a flexible and hybrid event management platform these days.
This means that, as an event organizer, you should be able to choose between a virtual, hybrid or live setting without any pressure. And that when time comes to host live events again, we should be able to take advantage of a digital registration system and the security of contactless & paperless interactions.
The beamian solution works for live, hybrid and virtual events simultaneously – due to an integrated platform – helping to pivot back to in person events while keeping the benefits of virtual events.
Essential Features to Boost your Hybrid Event
Thinking about your online audience, it becomes easier to offer a seamless viewing experience (without pop-ups or external links) using a software that incorporates video features in a native way. In addition to ensuring high video quality, it also guarantees that you're using tools specifically designed to ensure the dynamics of virtual events. 
Bring the flexibility of the beamian virtual event software to your online events using powerful tools for hybrid events, from video integration, live streaming and group meetings to the possibility to host specific sessions, such as webinars & workshops.
Meanwhile, don't lose sight of your venues and get to know how event tech can improve the onsite experience of your hybrid event:
Ideas to Engage Hybrid Audiences
Make sure your hybrid event is as engaging for those following on a screen as those watching in up close and personal. 
The main challenge here turns out to be keeping your virtual attendees engaged, because you don't control their environments. Try these examples of virtual event engagement ideas:
Keep your event sessions short

Create your event agenda with input from your audiences

Add the element of surprise (what about a guest speaker?)

Integrate offline experiences (why not make a giveaway?)

Actively monitor your chat window

Hold interactive Q&As

Take advantage of gamification
While machine learning events gain more ground, we believe these ideas are still very helpful for event organizers looking to organize wildly successful hybrid events in 2022.
Talk to us! We'll help you creating successful hybrid events through a fully flexible event management platform.