Creating a smooth event registration & check-in is an essential step toward organizing successful events. We all know the importance of first impressions, and besides the main event page, or some other type of communication material that has the goal to promote your event and attract your target audience, the next most crucial step is creating a polished event registration and check-in process.
Digital event registration & ticketing
The registration or sign-up process is a vital point to any business from any industry when it's required. If you think about it, digital registration and ticketing is the path that allows you to acquire new event attendees and enables you to gather important data or monetary compensation by selling tickets.
For this reason, there's a need to create a registration and ticketing experience without any type of resistance that can impress those who are interested in participating in the event. And, what would this be nowadays? A digital registration and ticketing system.
If your event page or marketing materials made them come to the registration page, you already did a good job. But now, don't let it go to waste with a poor digital registration and ticketing process.
Think about it like this, if you had a store with products, you would probably have a good presentation and someone experienced to guide the potential customers into buying something.
At events, you have a platform that needs to be visually appealing and easy to use, mainly when we're speaking about registration or acquiring tickets.
With digital registration and ticketing, you will no longer have problems like long waiting lines to buy tickets and you also facilitate the payment process, so you can have the best possible chance of turning them into visitors.
How digital event registration can help create a better event experience for attendees and exhibitors
Now, let's talk about how digitalizing registrations can benefit the experience of attendees and exhibitors at events.
Faster and convenient
Digital registrations are faster and more convenient because there is no paperwork to be filled out. 
Attendees can register from the comfort of their homes, with different devices and even if they make a mistake, they can easily delete it and correct it without making a mess. 
The event organizer can even do their registrations by importing a database into the event management platform. In addition, you'll be working with a paperwork-free event and as a result, you end up saving money.
Instant event registration confirmation
Digital registrations enable you to instantly send a confirmation message to your participants when they meet the registration requirements. For example: did they provide all the necessary info? Did they make the payment? And how can they get the confirmation? You can configure an email that is automatically sent when all the requirements are met.
Real-time statistics and reports
The traditional registration process is long gone. And why is that? Every time you get a new registration, you need human resources to gather all the information and introduce it to a database. This is a challenging task when there's no automation. 
Digitization makes everything automated and trackable at any time. Every time a new registration comes in, the information provided can be instantly put into the right places and uploaded into a database.
Reducing human labor not only reduces the possibility of errors caused by the fatigue of doing repetitive tasks but you'll also end up saving more money by automating processes that would be otherwise performed by people.
Digital event registration and sustainability
People are increasingly concerned about the environment and social causes. Sustainability is a buzzword in all media. If there are people who adapt their consumption to social and environmental causes, it becomes necessary to meet these ideologies. 
Sustainable events have contactless and paperless interactions and digital registration meets these ideologies. As a result, visitors will probably not think twice about joining your event. A paperless society is environmentally friendly.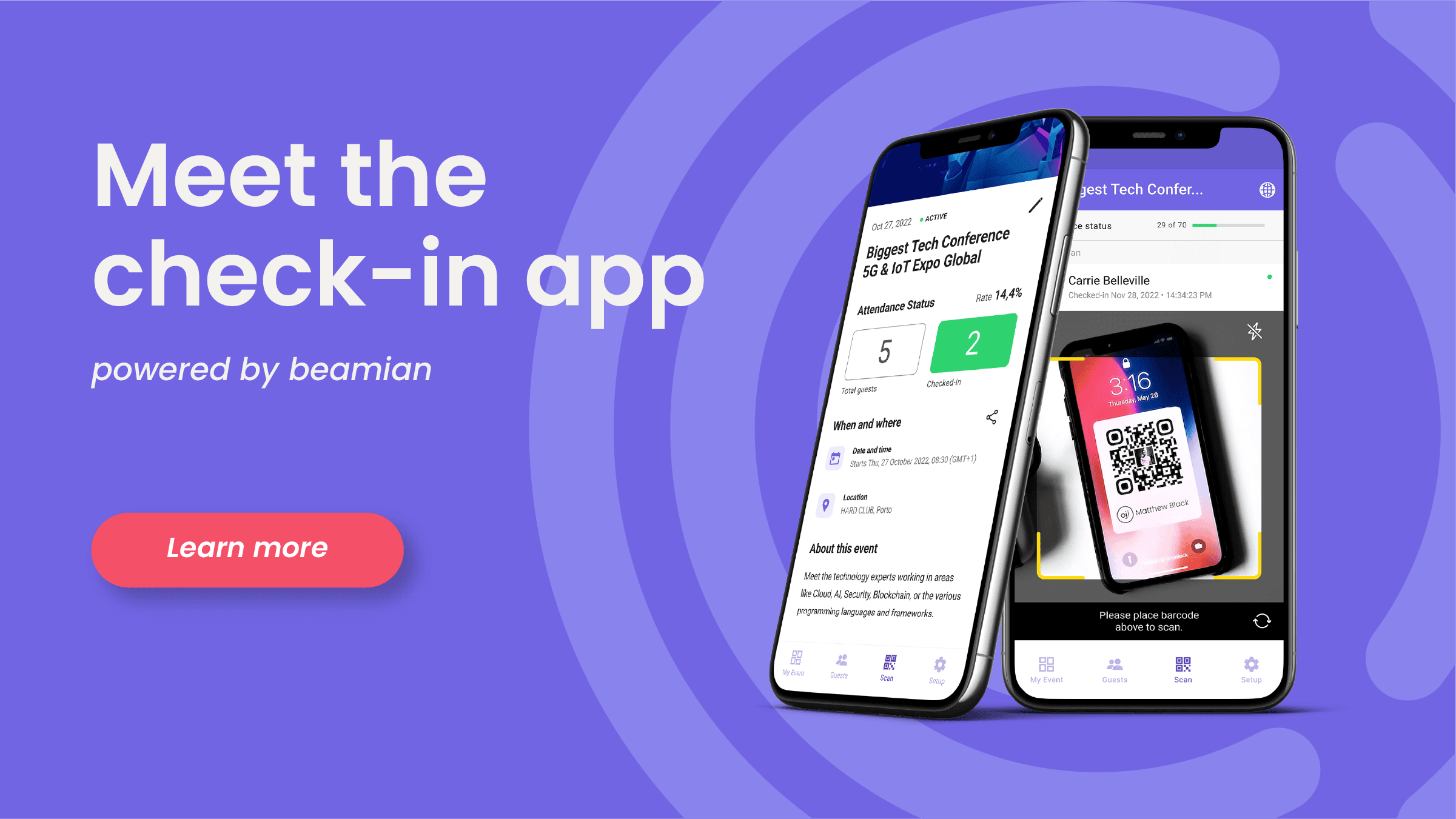 How to optimize your event check-in process. Features you need to have
After you implement your digital registration and you get rid of all the unnecessary manual labor, it's time to think about making the check-in process as smooth as possible. And how can you do this? Let's find out!
On-site event registration
An important feature that your event check-in needs to have is the possibility of doing on-site registration because you might want to register someone who showed up at the last minute. Having a backup plan is key for any type of challenge.
Access control and capacity alerts
Access control lets you know who can join a session per type of ticket. If someone has a VIP type of ticket, then they belong to a different place in the event.
Capacity alerts are useful for events with limited capacity and it gives you information about how many people are currently at the event or specific session.
Automated Messages:  "how to check in"
Everyone is more comfortable knowing what is the next step. This is why you need to create an automated email so that the participants are informed on how to proceed with event check-in. You may opt to do this as soon as they confirm the registration or one day before the start of the event.
Go paperless with contactless solutions
Contactless solutions will enhance your event check-in and capacity control by making the whole experience faster, dynamic and workless. It eliminates the need to touch a screen or a device and as a result, it speeds up the process by eliminating long waiting lines. 
It also makes it easier to consistently track entries and exits at events. Besides these benefits, they reduce the costs of the event and the impact on the environment.
3 different contactless solutions you can use:
QR Code:

the most low-cost contactless solution and its purpose is to identify each of the participants through an id associated with the QR Code. This can be done with any device with a QR Code reader.

Smart badges:

suits the same needs as the QR Code but the participant's id information is incorporated into a small chip. They are typically used at events where you need a visible identification of each participant.

Wristbands: The way that wristbands work is the same as the smart badge, with an identification incorporated into a small chip. They are used in events where you don't need a visible identification of each participant. Wristbands make the access control process easier, by having for example different colors. They are also more suitable for multiple-day events.
Trained staff
Even though we're heading into a more technological world, there's still a need for a human touch. Not every participant will be one hundred percent comfortable and have the technology knowledge to know how to proceed when getting into the event. That's why you need someone who knows to resolve any technical issues and the interpersonal skills to deal with the questions that any attendee might have.
Why is capacity management a useful feature
Capacity management allows you to understand how many people are inside the event. Suppose it's an event where there's a ticket purchase or prior registration. In that case, there will be no problem with the capacity to receive those same people, because you are expecting that same number of participants. 
When this doesn't happen, it's necessary to count the number of participants inside the venue and those who are joining, both for safety reasons and for the event quality you want to achieve. 
Headcounter is a free mobile app developed by beamian that can count, in real-time, how many people go in and out so you control the capacity of your event.
Collect valuable data for your event
Through digital registrations, you can access a database where you have access to multiple information suited to your needs according to the questions asked on your registration form. This may be useful to know your target audience.
When using check-in technological solutions, you also have all the information about the event traffic. How many people join at certain times, which times had the most traffic, the participation rate, and, others. There are endless possibilities to extract useful insights about your event, so be creative. 
It's important to put yourself in the visitors' shoes and figure out how to give them the best experience possible. To do this, you need to use the technology you have at your disposal and digitalize the registration and check-in process. Not only will it provide a better experience, but it will also save you a lot of work and money.
Technological innovation is constantly growing in every industry and the events industry will be no different.
Any questions? Drop us a message!