Manage and control participants more effectively and obtain measurable results in order to gain insight into what happens during events
Participant and space management in Corporate & Brand Events benefits from technological innovation and new identification technologies that allow improving the participant's experience. This is due to the elimination of less pleasant moments, such as waiting time in queues, but also due to the ability to deliver a set of important structured data that allows event organizers to evaluate the success of their event and add improvements after each edition.
The beamian platform provides event managers with a tool to manage all participants: this includes event registrations, sending emails to all attendees, attendance control, space and activity management, issuing attendance certificates and sending out satisfaction surveys, among other functionalities.
The 13th Congresso das Farmácias (Pharmacy Congress), held this year at the Lisbon Congress Center, counted on thousands of pharmaceutical professionals, all of whom were identified with smartbadges for a more effective management and control of the check-in area and of the access to several sessions and conferences.
In addition to controlling and viewing the number of participants per area/session in real time, it is also possible to restrict access and therefore limit the number of available seats in certain areas when dealing with exclusive sessions.
Last week, beamian was a technological partner in the Digital Marketing Bootcamp organized by the Portuguese Chamber of Commerce and Industry (CCIP), with an automatic system for check-ins (see how to optimize your check-in), intelligent accreditation and access control of the participants in the different parallel sessions, which allowed the organizers to maximize space management.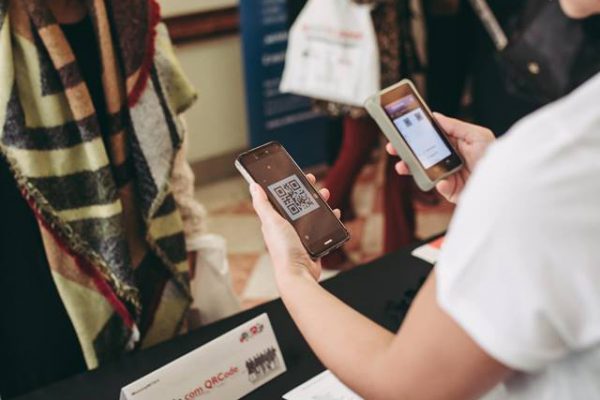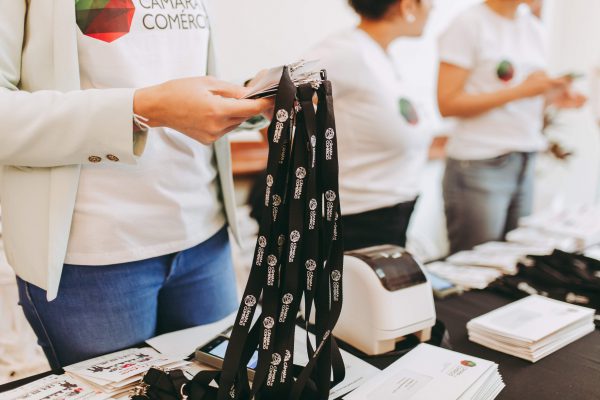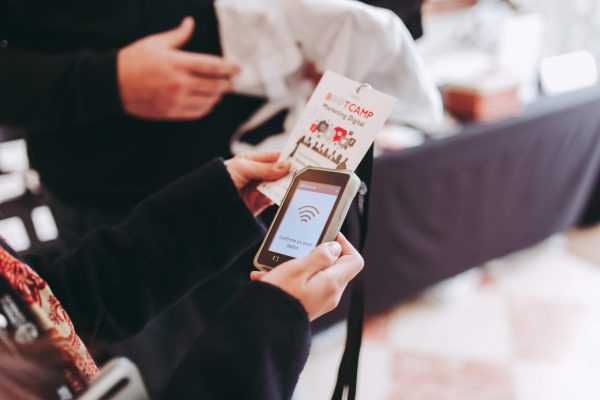 "This partnership resulted in a modernization of our event's check-in process, it streamlined the way we send information to participants and it allowed the collection of structured data for future analysis.

Alexandra Rocha

Marketing & Communication, Portuguese Chamber of Commerce and Industry
Organizers have in their hands a unique tool for managing participants, in a way that is not intrusive to their experience: the use of physical identifiers that extend as part of the experience! The physical identifier can be a wristband, a badge, a card, or any element that best suits a particular event, and with which participants are able to register their interactions.
Registering interactions means, in other words, that organizers are able to access in real time the number of check-ins that have already happened, the number of attendees at conferences or sessions, the number of shared contacts, and other interactions that are recorded electronically through the smartbadge. All these interactions are collected through the beamian system so that after the event the organizer better understands the reach and the performance of that particular event.
Satisfaction surveys regarding the participants' experience are an example of a data collection strategy which can be implemented through technology, not only to eliminate the conventional use of paper, but also to simplify the way the participants respond. In the Open Source event organized by Syone, the participants filled out the satisfaction survey in a more comfortable and fun way, by accessing the questionnaire via QR code.
There is a world of opportunities that technology - in particular contactless technology - can offer event planners to improve their management and control processes, to innovate their participants' experience and to collect a much larger set of structured data on everything that happens in the venue These solutions are the future of any organizer, regardless of the size of the event!
Talk to us and learn how to innovate your event!