The striking growth of virtual & hybrid events has allowed nearly every meeting to broadcast on a multitude of screens worldwide, eliminating the "fear of missing out" among attendees. And live stream, as a must-have addon and a major video tool for virtual events, has therefore an assembly of purposes in the world of business video hosting. Indeed, you could stream webinars, workshops, conferences and training sessions from anywhere in the world, and even to multiple platforms simultaneously. As live streaming is becoming crucial to making successful hybrid events now and in the future, it's time to take a look into what event planners should weigh in their considerations when choosing a live streaming service.
What to consider when choosing a live streaming service?
1. Privacy
Determining if your videos are going to be private for a group of people rather than open to the public is probably the most relevant consideration to make, and so we give it the top spotlight. Private video sharing is a much sought-after feature for event organizers who intended to host videos for internal use, while public streaming would be those intended for an audience that goes beyond authorized viewers. While sometimes broadcasters stream to reach larger audiences, we've to consider that's not always the case. Some examples of private live streams would be internal company meetings, paid virtual events, or private streams between teams and peers. And that's where private live streams come into play.
If you're not aware of this, know that when you decide to host a video on YouTube or Vimeo, you're consequently giving permission for those entities to use the video for other purposes, even if it's unlisted. This means that although copyright is guaranteed, other rights are granted to YouTube and other service users. 
Typically, video hosting & sharing platforms have their own set of rules and regulations in accordance with their license policies. So, get to know more about YouTube and Vimeo licences granted by you and its duration before you decide for the best live streaming solution.
2. Image Capture, Processing & Transmission
Once you reach the stage of capturing the moment, it's essential to choose the right equipment for your video streaming and test everything in advance. That way, you'll be reducing the likelihood of unforeseen events to occur in real-time. But even more important is to define responsibilities. Plan ahead how you will capture and treat your video image, whether through simply webcams by yourself or recurring to a professional live streaming studio. 
This event streaming diagram will help you understand the decisions you'll need to take: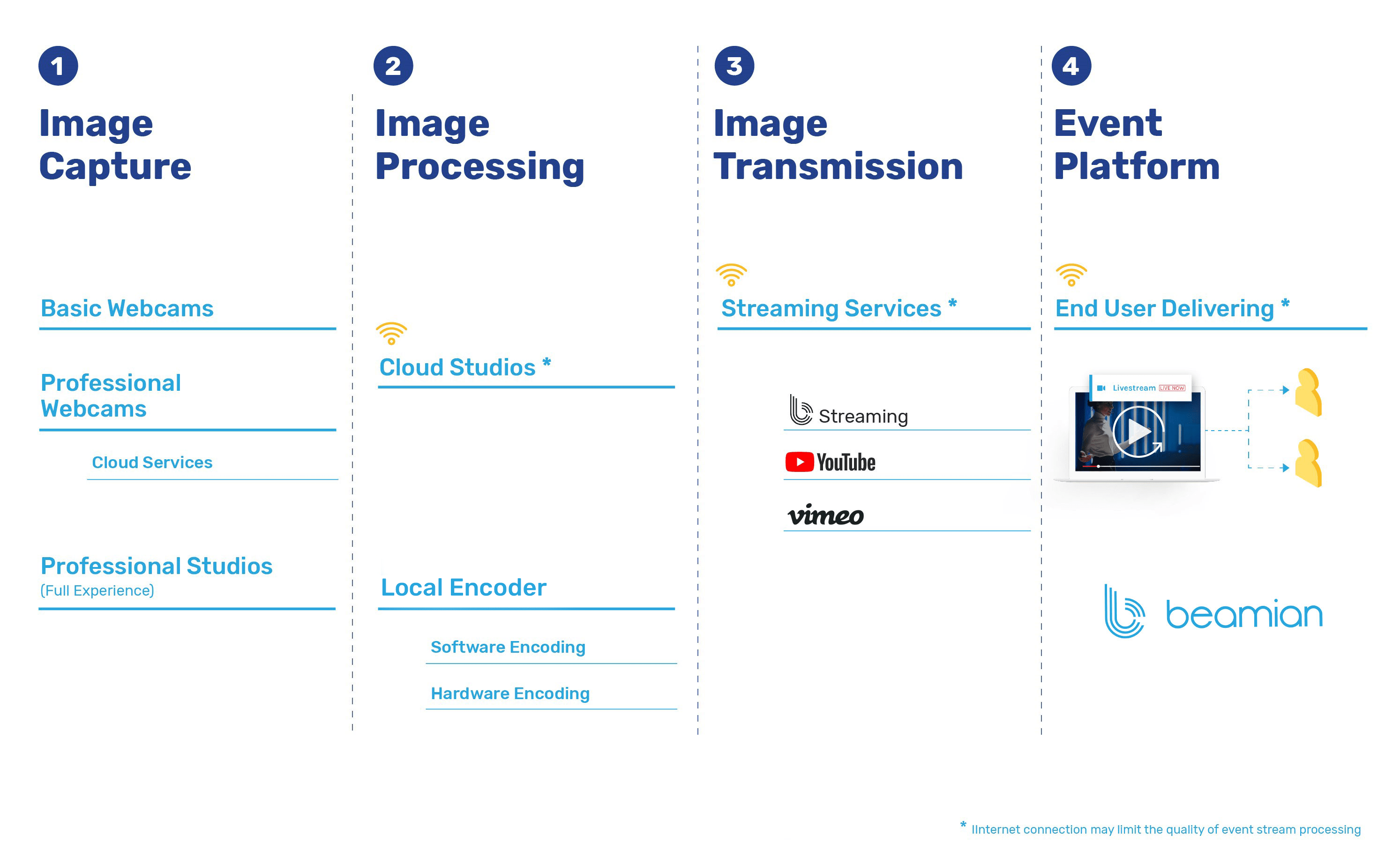 Tip: Once event live streaming raises many questions about video production and video quality control processes, we recommend you to appoint a virtual event producer, either internally or externally. The purpose here is to ensure that someone specialized will coordinate and set up the key elements of your virtual events, including layouts, features and virtual engagement design. For instance, you can opt for a video production, live streaming and content creation agency. If you want to make highly engaging virtual events with high quality production value, you'll need the latest in video and streaming technology by your side. So, think carefully about who will be responsible for creating and treating the content that will be broadcasted.
Also don't forget to define which entity will edit your video. If you're going to do it yourself, think about platforms such as StreamYard or other live streaming studios. But you should also consider using a production agency specialized in switching and encoding live streaming sessions, who are able to control the various image sources, timing, transitions, translations and audio at once. 
3. Security
In order to avoid becoming part of data breach statistics, it's quite important that you opt for a live streaming service that provides professional-grade privacy and security features. Password protection is one of the most basic forms of security for private live streaming, allowing you to set a password for authorized viewers. Right after, we've AES encryption within the most common security features. 
In case your event will benefit from a ticketing solution, another great way to keep content secure is to require viewers to pay for access. It will also provide a revenue stream for your live broadcasts, which can also be enhanced by paid subscriptions and advertisements. However, when money is involved, payment security becomes exponentially more important, so make sure your live streaming platform uses SSL encryption for payment information.
4. Format
Video formats are the containers used to combine and store compressed audio and video streams for transmission to the content delivery network for further distribution to end users. If you want to reach as many screens as possible, consider acquiring a live streaming platform that can accept most common video format files. The more compatible video formats, the better. Some examples are AVI, MP4, MPG, WMV, MOV, QT, ASF, 3GP, WMA, MP3 and M4V.
5. Costs
Another relevant question to ascertain is whether there will be additional costs and if so, whether they're worth it to support them. After all, measuring success in virtual events is at the top of any event organizer's priorities.
In this context, some questions should be raised. For example, does your event have a limited audience or do you want to influence as many viewers as possible? At times, live streaming providers charge for live viewers, but there are always workarounds on the market with a best price-quality ratio or even without restrictions of time, number of viewers or number of sessions. Thus, make sure you're kept up to date. 
6. Technical features
Some of the crucial features in a live streaming platform lie in the ability to embed video content, share it on social media platforms, and also in the possibility of monetizing it (as we already mentioned). On the same level are the content delivery networks (CDN), that must be as powerful as possible, avoiding bad viewing experiences and technical hitches that can even bring down your Internet connection. Also in relation to this point, it's important to bring up issues as the location and capacity of the live streaming servers. 
You should also keep in mind to look for a full-featured, easy-to-integrate API video streaming platform, as APIs hold some great opportunities for you to create customized experiences within your video platforms. And since it would probably be hosted on your company's website, it's also important for the video player to be white-labeled. The presence of a third-party logo on the showcased video doesn't make a good impression and won't seem professional.
Warn: Usually, free streaming platforms come with loads of limitations, as far for privacy or security features. On other most-known platforms, you may also run into limited rights to the content you're broadcasting, so your video streams aren't actually yours. These platforms are generally easy-to-use, but they can be quite restrictive. Get reliable information from event technology providers and try to find a middle ground that gives you the necessary confidence in managing technical problems.
7. Analytics
Having access to video streaming analytics will help your team better understand your audience and the performance of your videos. The good news is that you can also use this data to shape future live streamed events and other videos. Make sure you'll have access to a final dashboard and also to real-time analytics reflecting indicators such as consumption per time, concurrent viewers per time, new playback sessions per time, gigabytes per time, plays and viewers per time, consumption per device, top content, and consumption per location.
In these times of virtuality, there's for sure a broad range of available options when it comes to professional streaming solutions. And with people becoming increasingly attentive and placing so many expectations on their virtual experiences, it's a critical point to pay attention to detail by assessing key features, server capacity and support responsiveness when choosing the best live streaming platform for virtual and hybrid events.
Did you know that the beamian virtual event platform includes a private live streaming service, but also works with external video feeds from other video hosting platforms? 
Give us a shout! We'll show you how to make your virtual events more professional through a hassle-free live streaming service.