Event technology is disrupting the global industry in a big way, but choosing an event management software that really delivers value can feel overwhelming most of the time. The good news? We've uncomplicated this decision for you, letting you know what you really can't miss among all the details you should check before making a final decision.
Let's take a look at some key features that any good event management platform must have?
1. The ability to manage distributed audiences in a single platform
This first is probably a cross-cutting pain point for the vast majority of event planners these days. Indeed, it's not always easy to combine virtual and in-person elements – and it's very easy to lose your way when you have to manage them in isolation, rather than in an integrated way.
Working with an omnichannel reality implies meeting different expectations and requires both strong technical and operational expertise to ensure attendees have a smooth and engaging event experience. So the question to ask should be: is your event management platform suitable to explore the global reach of hybrid events?
2. Local support with hardware for in-person events 
Did you know that nearly 74% of all event organizers collaborate with more than one event technology vendor? We find this a puzzling fact and food for thought.
If the cap fits you, start by asking yourself what you might be missing and what drives you to seek different solutions from different partners. For example, do any of them guarantee the development of solutions tailored to your event? Do any of them have the ability to manage live streaming sessions while monitoring on-site access to those sessions? Do any of them ensure a contactless event check-in and capacity control? All in all, do any of them offer both digital tools and on-site hardware control? 
3. White label branding 
White label correctly isn't only about updating your event marketing materials with your company's logo and brand color palette. The ultimate goal is to not let your audience tell that you're using a third-party software to build your event – which really starts with holding your event on your own website domain name.
4. Easy event registration & check-in (onsite and online)
Pre-registration is a step that cannot be skipped if you want to stop guessing who's coming to your event and avoid chaos at doorways. So use and abuse the registration forms! Event personalization relies heavily on gathering initial data about attendees – resulting in more ticket sales and increased repeat attendance. 
However, don't forget the possibility of adding new visitors on-site. Your event staff should always be able to digitally register new visitors in real-time on the day of the event.
Learn more: Building an event registration strategy
5. Secure event ticketing
When it involves ticket sales your attendees should be able to pay directly through your event platform, making the process trustworthy, short and hasse-free. 
Will you get different types of participants? Make sure your event management software supports multiple ticket types for the same event – surely your sponsorships, exhibitors and attendees won't all have the same tickets. So offer a diverse range of event experiences, from lowest price, base tickets to upgraded tickets that give access to private sessions and VIP areas.
6. Reports & analytics
Event data can be incredibly valuable in helping event professionals understand exactly what happened at their events and how they can improve things in the future. Whether it's measuring event ROI, knowing attendance rates or simply figuring out which sessions people found most engaging – there's a growing importance of data in events.
That said, make sure your event management platform can provide you with key metrics such as qualified sales leads per exhibitor, interaction and contact sharing records, revenue numbers, net promoter score (NPS), speaker engagement, top performing topics, and conversion/response rates.
7. Attendee engagement 
Smart tools for exchanging contact information can highly improve attendee experience and engagement – if you're dealing with on-site attendees, use contactless solutions to replace paper business cards and to collect leads in a more effective way. And improve live interactions with an event app that includes a voting system, real-time polls and surveys. 
If it's the case, don't forget to offer an across-the-board experience to remote attendees through event live streaming, and to make available individual or group video conferencing rooms and live chat for an engaging online networking. This interested you? Learn how to choose the best live video streaming for events.
8. Easy customizable event agenda
Your event calendar should tell what happens when and where, keeping your attendees up to date on exactly what's going on. It should be easily managed, fully customizable, support multiple tracks, and accommodate labels and filters for faster search results.
Did you know that the beamian platform can provide a unified experience for hybrid audiences through a consolidated agenda for both virtual and in-person attendees? 
9. Exhibitor tiers for sponsorship exposure
For many organizers, sponsorship is the difference between a wildly successful event and a complete failure. Although sponsors add credibility to your event and give attendees a unique opportunity to get closer to their favorite brands, most of the time they're asked for a financial return.
So, ideally your event management software should offer sponsors and exhibiting brands different options to stand out. The beamian event platform offers three levels of visibility, contributing a lot for event monetization.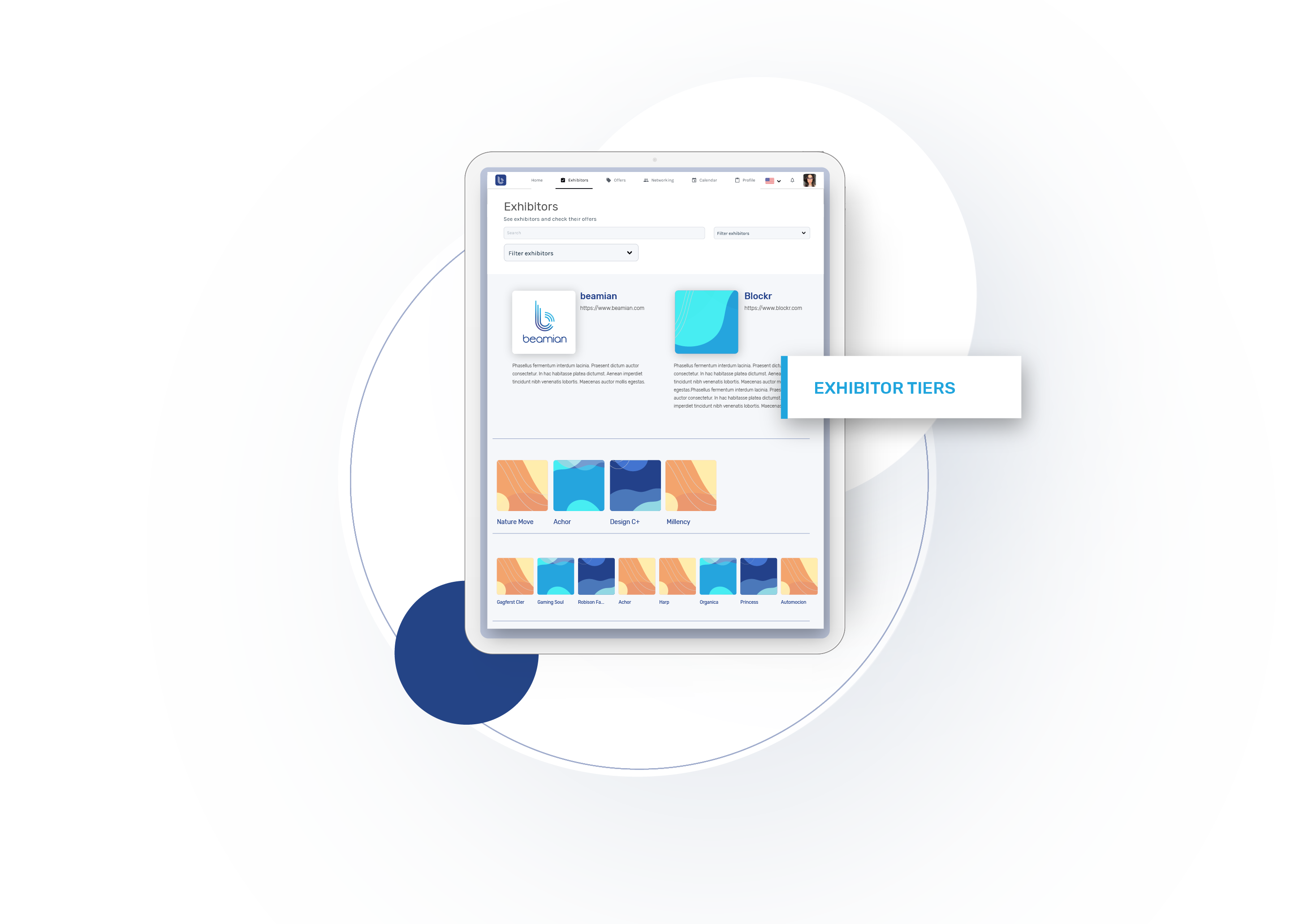 10. Product showcasing
Looking to create a memorable virtual or hybrid event? Consider having a powerful feature that allows your exhibitors to virtually showcase different products or offerings in a fully customizable way. 
Imagine a marketplace that powers networking for virtual B2B trade shows, letting each participant access specific product pages through a virtual showcase. That's what we are talking about.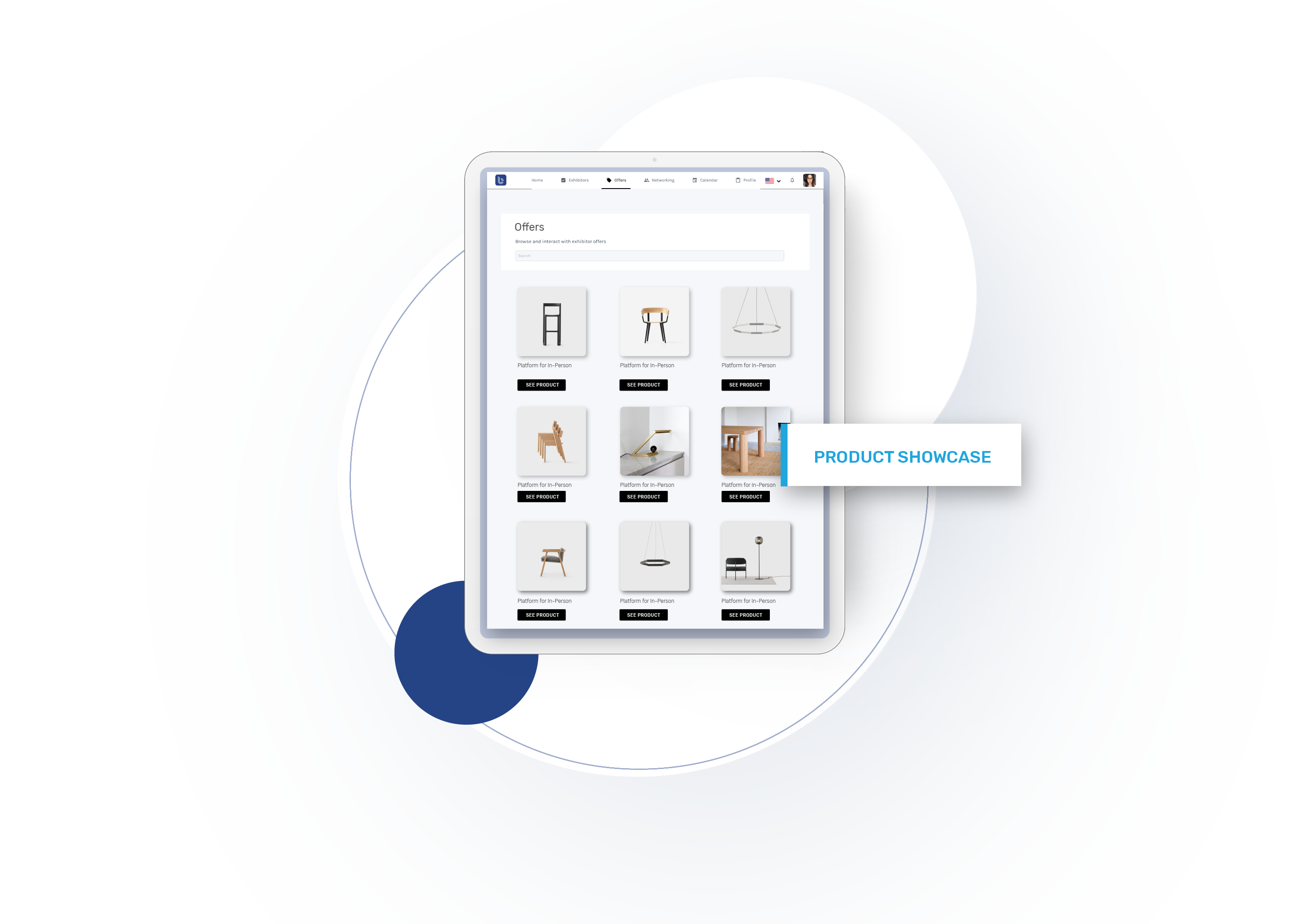 Talk to us! We'll show you how to blend virtual and on-site experiences within one single event management platform.